Home renovation and repairs.

Electricians
Plugs / sockets
Light fittings
Differential switch
Fans
Electric heaters
Intercoms / Bells
Electrical faults

Plumbing
Gas water heater
Taps / Thermostats
Leaks / Blockages
Drip irrigation system
Bathroom fittings
Cisterns
Shower trays
Syphon tubes/drainage

Locksmith
We carry out all types of work with locks.
Opening doors
Changing and installing new locks in wooden / aluminium / pvc doors

Air conditioning
Repair and installation of Air conditioning and refrigeration equipment

Builder
We carry out all kinds of home improvements.
Change bath for shower tray
New bathroom
Fitted kitchen
Tiling
Plasterboard walls (pladur)

Windows
Repair windows
Install new windows
Mirrors
Sliding glass doors
Install windows to close balconies
Double glazing for soundproofing
CLIMALIT

Painters
We offer free budget with no compromise.
Fast service and impeccable job guaranteed.

Shutters
We repair and install all types of blinds/shutters.
Aluminium / PVC / Wood
Motorised blinds

Awnings and pergolas
We install and repair all types of awnings and sunshades.
Change material or deteriorated parts.
Motorisation with remote control.
We construct and repair wooden / aluminium pergolas.

Carpentry
Repair chairs / tables / drawers / wardrobes.
Kitchen units or furniture.
Indoor / exterior doors.

Aluminium / PVC
We repair and make all kinds of windows and doors.
Repair and fit shutters.
We make and fit shower screens.
Neighbourhood communities

Home owners and companies.
e-mail :
[email protected]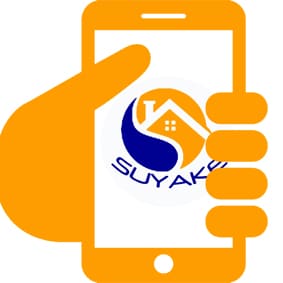 +34 644 555 688 (answer calls in English)
«In accordance with the organic law 15/1999, we inform you that the data obtained from this request will be stored in an automated file under the responsibility of SUYAKE; the sole purpose of this being to attend to your requests and to send information which might be of your interest.
You can exercise your right to access the data, rectify, cancel or oppose by writing to SUYAKE, C/ Jara, no9 Los Barreros 30310 Cartagena (Murcia), España.
Unless you tell us otherwise, we will assume that your personal data remains the same, that you commit to notify us of any change and that we have your consent to use your data for the above mentioned.
The sending of this data implies the acceptance of this clause.»